All-Season tire for light trucks, SUVs and off-road use
This all-season tire offers extreme durability for professional driving and off-road enthusiasts. It is a fearless performer at quarries, forests and mining areas. This sturdy tire is a workhorse with a thoroughbred mining compound that can handle even unexpected impacts during demanding off-road use.
ULTIMATE DURABILITY FOR DEMANDING PROFESSIONAL USE
FIRM AND PRECISE HANDLING
STONE EJECTORS IMPROVE SERVICE LIFE
Suitable for EV cars
allseasontires
limitedamount
electriccars
potholeprotectionwarranty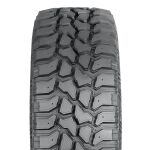 User opinions
Rated 4.6 based on 17 customer reviews
---
Excellent gravel durability and long wear
Katron440 • 4 months ago
Bought these and ran them all winter on a 2010 Dakota with almost no sign of wear. This tire is quite hard so not really great on ice, but fairly good in snow. Should be a long lasting tire based on the miles I put on them. Sold that truck and the tires as well. Ordered another set for my 2012 Powerwagon.
I recommend this product
---
Best all-around tire
Goalie • 11 months ago
Never had these tires not get me through the mud, or snow, or anywhere I've been. Best all-around tire.
---
Love em!!!
vettehedd • 2 years ago
These are the most durable tires I've ever purchased! Can't wear em out!
---
Best tire for my hunting rig
Ldicker8 • 2 years ago
These aggressive tires (2nd set) on my overloaded F-150 pickup have not only met my expectations, they have exceeded them greatly. I need to do a lot of highway driving before I get to my hunting destinations, in the past, I sacrificed my hearing and sanity with loud noisy aggressive tires, Rockproof tires are not only superior on northwest shale lined roads, they are quiet on the highway. They are the best and I have tried them all. Going to purchase my third set in a couple years, they seem to last a long time also. Great tires, can't say enough good things about them.
---
Rockproof Proof
RockNerd • 3 years ago
I work as a geologist throughout the Western US, putting my tires through some pretty rough stuff on dirt roads, 4x4 'trails', and in old and active mine sites. I've never had a tire hold up better. No chunking, no cracking, no flats. I've run Toyos, Coopers, BF Goodrich, Hankooks and Falkens. Nothing compares.
---
Surprise!
6A6173 • 3 years ago
Canyonlands Tire in Blending Ut had a set of these for my F-250 when I was in need. Never heard of Nokian; shop owner recommended. Utterly satisfied with this tire. My truck weighs almost 10,000 pounds and after 15k miles, around 1/3 of that off road, these tires are more than holding up. And they drive great. And they provide excellent traction. Little noisy on highway, but I like it. Worth it. Gonna put these on my jeep too. I also recommend the tire shop in Blanding.
---
Best tire I've ever had
Jason01 • 4 years ago
I put these tires on a 1998 dodge 2500 about 3 years ago and a 100k still have over 50% of tread left never had a tire like this awesome
---
First impression very satisfied.
Matt1981 • 4 years ago
The pictures do not do these tires Justice I was very skeptical looking at the online pictures but seeing them in person and driving with them on the truck the past 24 hours I have not regretted my decision to buy them I have them on 2017 Power Wagon very heavy truck. I have had Goodyear duratrac, Toyo M/T, and Hercules trail diggers I would have to say I am most impressed with these tires so far the look the feel and the ride are perfect, oh and let's not forget the price is amazing compared to the common brands.
---
Purchased for use as summer tires
Miles • 5 years ago
I bought this last month and am amazed by how it stands up to gravel roads and the potholes in Edmonton. I have these on a Jeep Liberty KK and while the noise and fuel mileage is pretty bad, you don't buy a tire like this and have those be a problem for you. You buy these for peace of mind over the harshest terrain and for that, they perform spectacularly. These beefy tires are probably overkill for most, but that's exactly why I bought them. I wanted a tire that made zero compromises when it came to toughness and that's exactly what this is. They don't perform well on glare ice and while they are studdable to help with that, I wouldn't recommend using these as a winter tire.
---
pictures dont do them justice
jasonpe • 5 years ago
I was hesitant at first to buy. Not a company I have heard of. And the cost was considerably lower than the competition. so after looking online for a few weeks at them, i was not sure they would be a good tire for me. But seeing them first hand being able to touch and move them around i was delighted in their solid construction, very well made. I ultimately purchased a set of 4. and It didn't break the bank unlike other brands. we went from the tire shop to the beach, and ran up the coast line, wouldn't recommend for sand, the tires like to dig. we then headed up to the mountains, looking at beautiful waterfalls. the terrain was a mix of snow, and mud. not once did we loose traction. on road the tires make a little more noise than the previous tires i had, but its not horrible. no loss of traction on wet roads. these tires make me confident in my purchase, and will by another set when it comes the time to do so.
Aramid Sidewall technology
Commercial-grade durability
Aramid Sidewall technology offers a new type of durability and protection for demanding driving conditions. Strong, synthetic Aramid fibers reinforce the tire's sidewall and make it more resistant to impacts and cuts that could otherwise easily break it.
Stone ejectors on the groove bottoms
Better durability
Stone ejectors prevent sharp stones from attaching to the tire's tread surface and penetrating the tire structure. The stone ejectors improve the tire's service life and offer additional protection by preventing tire body damage.
Nokian Tyres Rockproof Hybrid rubber compound
Extreme cut resistance, more working hours
The new Nokian Tyres Rockproof Hybrid mining compound is tailored for challenging off-road use. The tire's extreme cut resistance comes into its own during professional use in mines and quarries as well as in off-road driving.