Keep EV range high by choosing the right tires
The latest generation of our flagship winter tire is in tire shops this fall, and it's one of the greatest non-studded tires ever made. We're pleased to introduce you to the Nokian Tyres Hakkapeliitta R5, R5 SUV and R5 EV.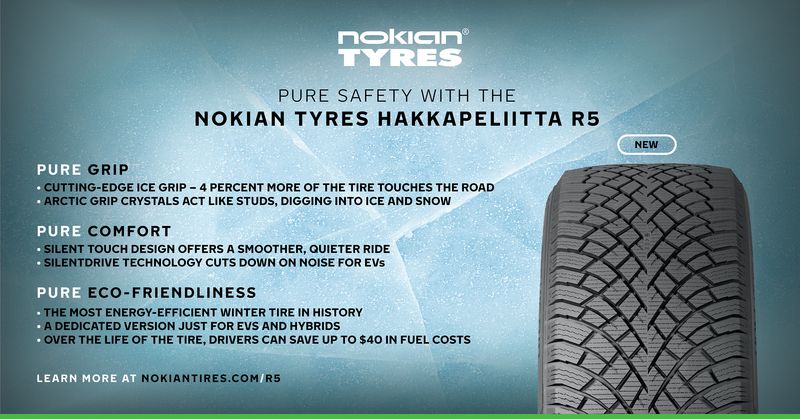 The newest generation of our flagship Hakkapeliitta product line is, in our opinion, the greatest non-studded winter tire in history. But it's not just opinion -- we've got the data to back that up.
Eco-friendly = Wallet-friendly
There has never been a more energy-efficient winter tire than the Nokian Tyres Hakkapeliitta R5. Its rolling resistance is, on average, 15.5 percent lower than its premium industry competitors. Over the life of the tire, that means drivers could save as much as $40 in fuel costs.
And lower rolling resistance is good for the planet, too. The Hakka R5's lightly rolling Green Trace Compound can decrease CO2 emissions by as much as 300 pounds over the life of the tire -- and extend EV range by as much as 140 miles each winter.
For the first time, we've introduced a non-studded winter tire just for electric and hybrid vehicles, the Nokian Tyres Hakkapeliitta R5 EV. In addition to being extremely efficient, its strong structure handles the added weight of electric vehicles, while SilentDrive Technology cuts down on road noise to make the road as comfortable as possible.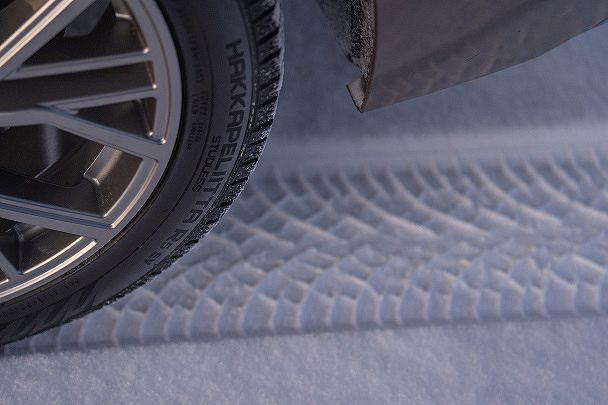 Pure Grip
Rolling resistance is great, but safety is kind. And the Nokian Tyres Hakkapeliitta R5 takes winter safety to the next level, too. 
An improved tread pattern allows 4 percent more of the tire to touch the road, stabilizing grip in tough conditions. Arctic Grip Crystals embedded throughout the tire act like studs, emerging as the tire wears to provide essential grip reserve.
The result? A tire that brakes 18 feet shorter than its predecessor, the Nokian Tyres Hakkapeliitta R3. To certify that elite grip, we've added an ice grip marking to help drivers remember that this tire can perform in winter's worst.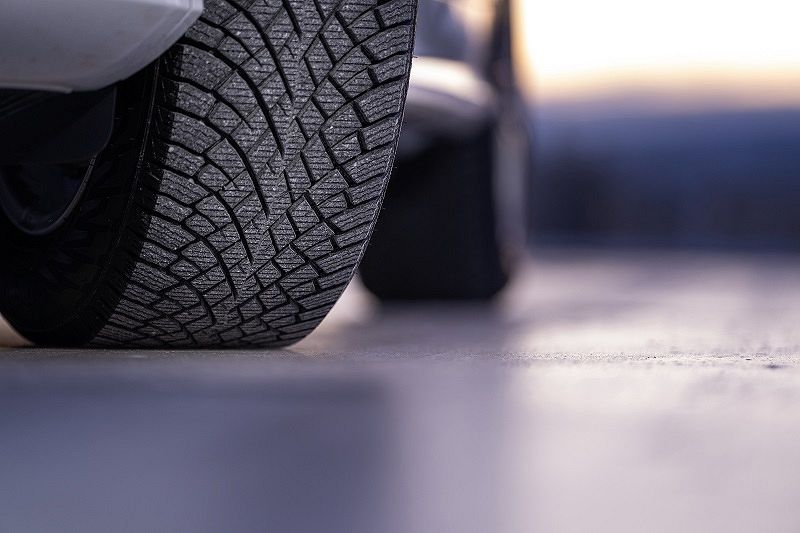 The Hakkapeliitta R5 is crafted and tested to thrive on ice.
With all these advancements in safety and efficiency, we've still found time to deliver a comfortable ride. The tire's Silent Touch design offers stable handling, smooth driving and pleasant sound levels. Our engineers have selectively eliminated the most disturbing noise peaks the human ear can distinguish from inside the vehicle, making winter journeys as peaceful as possible.
Winter travel should be safe, smart and environmentally friendly. With the Nokian Tyres Hakkapeliitta R5, R5 SUV and R5 EV, we believe we've delivered the best non-studded winter driving experience in history. We're excited to send these tires onto the road next fall.
Click here to learn more about the Nokian Tyres Hakkapeliitta R5, and visit our Dealer Locator to find a Nokian Tyres retailer near you!
Share these driving safety tips with your friends and family on Facebook: