Rule No. 1: Purchase tires that suit your climate
Even if you bought the most expensive set of tires, they may have been the wrong choice.
That's because the first rule of our Ten Rules of Tires might also be the most important: the tires you drive need to match the climate where you live. We've created a Tire Buying Guide to help you learn which tire type is right for you.
Learning how important this choice is may be a surprise to people who think there is only one type of tire: black, rubber and round. But in fact, tiremakers work hard to design tires with very specific qualities that are meant to suit specific types of weather. At Nokian Tyres, we invented the winter tire to withstand cold weather, snow and ice. That one is pretty self-explanatory. If you live somewhere that experiences severe winter weather, you need to put winter tires on your car during the colder months, then switch to all-season tires for the rest of the year.
But if you don't live in one of those areas, you have two other options – and your choice is important. That's because in most of the United States, all-season tires aren't actually meant to drive in all four seasons.
Yes, that makes the term "all-season" a misleading one. Let's clarify things for you.
Do you:
Live somewhere that experiences occasional snow and ice during the winter months?

Often see the thermometer dip below 45 degrees in winter?

Like to go skiing or drive through the mountains?

Occasionally travel north to see family or friends for the holiday?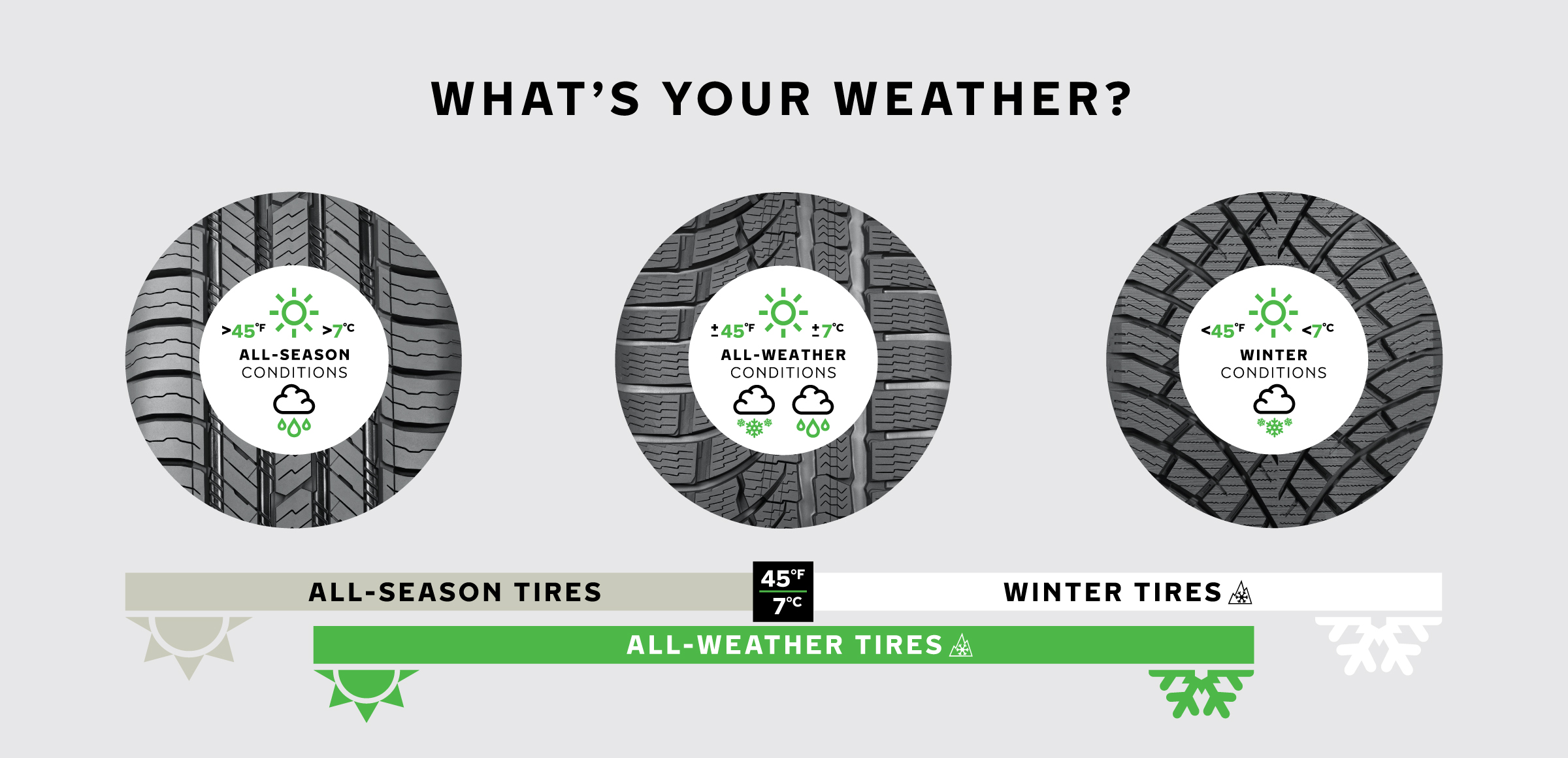 If you answered yes to any of these questions, all-weather tires – not all-season – may actually be the best fit for you. What's the difference? Unlike all-season tires, all-weather tires are built to withstand wintry elements. They're softer, have tread patterns that carve through snow, and perform better in chilly temperatures. The ideal all-weather driver experiences unpredictable winter weather and wants a true four-season tire that also performs well in spring rain and summer heat.
Fortunately, Nokian Tyres invented the all-weather tire and tests it in the same brutal Arctic conditions that inspired us to create the original winter tire eight decades ago. The Nokian Tyres WR G4 and WR G4 SUV are highly effective options for sedans and light SUVs, and the Nokian Rotiiva AT Plus is a rugged, renowned choice for light trucks and heavy SUVs. Want proof? Meet the Connecticut tire dealer who only lets his family drive Nokian Tyres' all-weather products.
If you live in Florida or Arizona, keep those all-season tires (they're also a great choice for winter tire drivers who need a reliable option for the summer months), but consider an all-weather tire if you live in an area that winter likes to visit.
To learn more about what tire is right for the weather in your area, check out our Tire Buying Guide. To learn more about our products and premium nature, visit NokianTires.com.