Car and Driver Magazine has informed and entertained automotive enthusiasts for decades. As a respected voice for drivers, its recommendations carry loads of credibility.
So we were pleased to see Car and Driver name our Nokian Tyres Hakkapeliitta product family as its "favorite winter tire" in a recent test recap. As the inventor of the winter tire, we're glad to hear a venerated magazine praise our tires' grip on ice.
Director of Vehicle Testing Dave VanderWerp opted for the Nokian Tyres Hakkapeliitta R5 EV to make the most of a recent ice test of the Tesla Model 3. His thoughts?
"We...went with our favorite winter tire, Nokian [Tyres] Hakkapeliitta, mounting a set of its brand-new R5 EV (the 'EV' designates a foam layer to quell noise). Nokian says the R5s have grip crystals that 'work like built-in studs,'" VanderWerp wrote.
The review continued:
"In the few short spots on the 1.9-mile course where we were pointed straight...the Model 3 accelerated quicker than we thought possible in these ultra-slippery conditions, clawing its way to peak speeds of 60 mph. The Party Box allowed us to hang the Model 3's tail out in big, beautiful slip angles—so big, in fact, that we worried the car might keep going all the way around. But we never did, as Mountain Pass has done a masterful job of dialing in the balance."
The test was efficient, too -- perhaps owing in part to the Hakkapeliitta R5 EV's extremely low rolling resistance.
"Each of the four timed runs used about 5 percent of the battery, leaving us plenty of energy to get to the nearest Supercharger for a top-off before the couple-hour drive back home," VanderWerp said.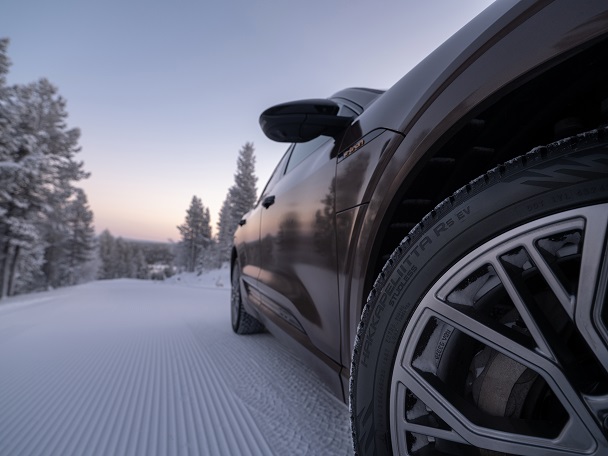 The Nokian Tyres Hakkapeliitta R5 EV features low rolling resistance, pure winter safety and a quiet ride.
Dave told you about the ice-grip crystals, which are embedded throughout the tire to behave like studs on icy roads. We also mentioned the industry-leading rolling resistance a moment ago, which is a big deal for drivers of EVs and hybrids who want to maximize their driving range. Other benefits of the Hakkapeliitta R5 EV include a quiet ride thanks to special acoustic foam inside the tire, an enhanced tread pattern crafted to maximize grip on slick roads, and an eco-friendly Green Trace compound.
Click here to read Car and Driver's full review. You can learn more here about the Nokian Tyres Hakkapeliitta R5 EV.