WHAT SETS OUR TIRES APART? WE ASKED OUR PRODUCT EXPERT
Tires mostly look the same, right? So what makes Nokian Tyres products a cut above the rest?
It's a fair question. To get the answer, we chatted with Nokian Tyres Director of Products Steve Bourassa, who has decades of experience helping connect drivers and tire dealers with the best possible tires for their driving conditions.
Steve, to sum it up: Why are Nokian Tyres products considered some of the highest-quality tires in the industry?
Steve: Products from Nokian Tyres offer safe traction in a variety of weather and driving conditions, in addition to low rolling resistance properties that help save on fuel and emissions. 
Why does that matter?
Choosing high-quality tires can make a significant difference in your safety and pocketbook.
We've been a trailblazer by offering Pothole Protection in some of our tires, including the Nokian Tyres One and Nokian Tyres Outpost product families. How does Nokian Tyres make such strong tires without compromising performance?
One way a tire manufacturer can reinforce a tire is by adding more rubber to the sidewall that would make it stronger, but that would create a heavier tire and change the dynamics of the tire and the handling properties. By making the tire heavier, it would also detract from the rolling resistance. Nokian Tyres is developing ways of reinforcing the tires without adding significant weight. Aramid fibers are a great way to do that. By including Aramid fibers in all our products, there really isn't much adverse effect. It doesn't have a big impact on handling properties or anything like that. Really, it's all benefit by having Aramid fibers included in our products.
Research tells us that as many as of one-third of major U.S. roads are in poor condition, which results in annual vehicle maintenance costs of about $600 per driver. We engineered the Nokian Tyres One to withstand the toll rough roads can take, while delivering a comfortable driving experience.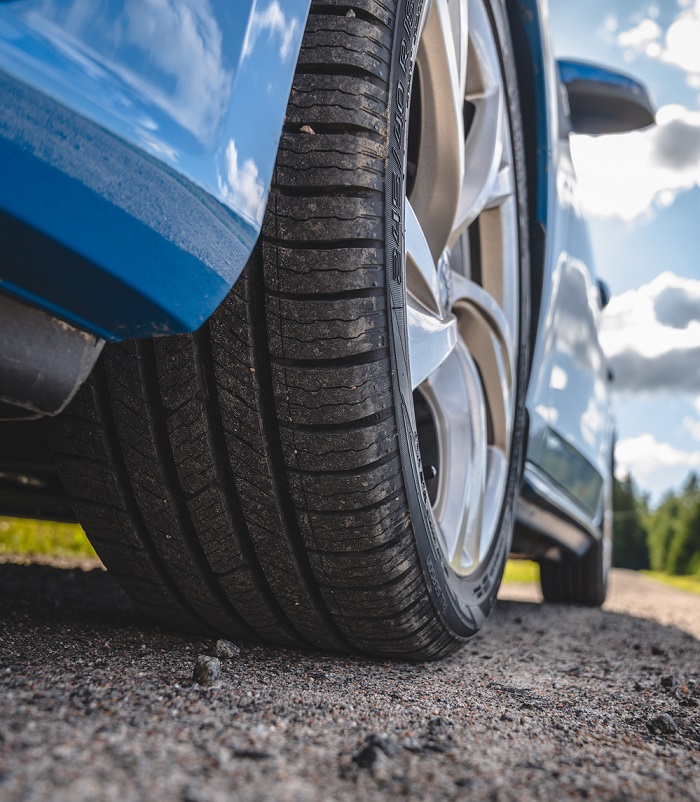 The puncture-resistant Nokian Tyres One, our first passenger tire to be infused with Aramid technology.
Aramid is the same material used in bulletproof vests. How does it work in tires?
Aramid provides mechanical strength to the tires. It's one of the additives we include as filler to our rubber compounds. By meshing together with the rubber, it kind of acts like fiberglass would. It's a lightweight material that adds mechanical strength and helps prevent damage that would cut your sidewalls or create road hazard bubbles you sometimes see on your tires.
Nokian Tyres also helps drivers keep safe by offering products that are closely tailored to a driver's weather conditions. That includes winter tires, which Nokian Tyres invented, but also all-weather and all-season tires. What's the difference between all-weather and all-season?
It's easy to confuse all-weather with all-season, but all-weather tires are truly meant for driving in any type of weather. While nothing is safer than a winter tire in snow and ice, all-weather tires are great for drivers who want to upgrade their four-wheel-drive vehicles to a true four-season option. 
Unfortunately, the "all-season" label is a misnomer in many areas of North America. While all-season tires don't adequately protect drivers on snowy, icy roads, all-weather products are well-suited for areas with unpredictable winter weather.
As the inventor of the winter tire, Nokian Tyres is passionate about its flagship Hakkapeliitta brand. Who should consider buying our winter products?
Those that insist on having nothing but the best for their vehicle when driving in harsh winter conditions, in situations when weather and grip can be scary for many drivers. Our Nokian Tyres Hakkapellitta tires are for drivers who want the absolute utmost in safety. 
For more information about Nokian Tyres products, visit NokianTires.com.