Why One Adventurer Thinks the Outpost is the Ultimate All-Terrain Tire
Ever wanted a tire that thrived in every circumstance you could possibly throw at it? So did Justin Housman, a California-based journalist with Adventure Journal who tried to push our new all-terrain tire, the Nokian Tyres Outpost APT, past its limits.
Rain.
"During rainy driving on roads, they're easily the most confidence-inspiring tire I've driven," Housman said.
Snow.
"The Outposts feel like you've gotten out and installed tire cables."
Mud.
"Every time I spun my tires through the muck, I expected to get stuck. Never did."
By Justin's own admission, the Outposts never failed him.
"I've had my car for a few years now, and these are my favorite tires thus far," Housman said.
That's in line with the pledge we've attached to our new family of all-terrain, all-weather tires, the Nokian Tyres Outpost Family.
I will:
     -- Extend the boundaries of where I can go
     -- Extend my terrain by removing limits
     -- Extend my toughness by finding inner strength
     -- Extend my travel by forging new paths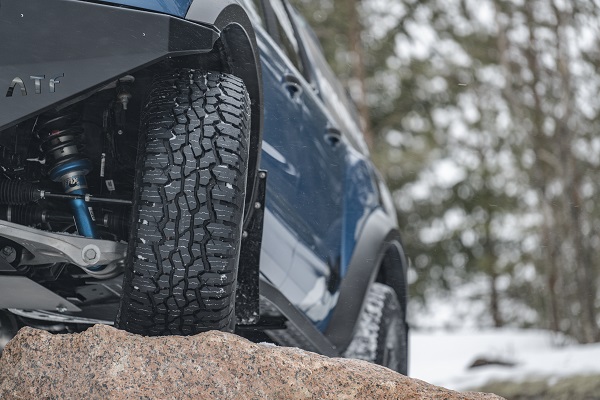 If you want a tire that's tough enough for the extremes, including winter weather, but versatile enough for the everyday, the Outpost AT and APT are for you. But which should you choose for your adventures?
NOKIAN TYRES Outpost AT
If you drive a pickup or good-sized SUV, the Outpost AT is your ultimate adventure tool. Its sidewalls and aggressive tread are reinforced with puncture-resistant Aramid fibers, a technology we call Aramid Shield. For those who are unaware, Aramid is the same material used in protective vests -- you might know it as Kevlar. The lightweight Aramid fibers add significant durability so you can tackle any surface.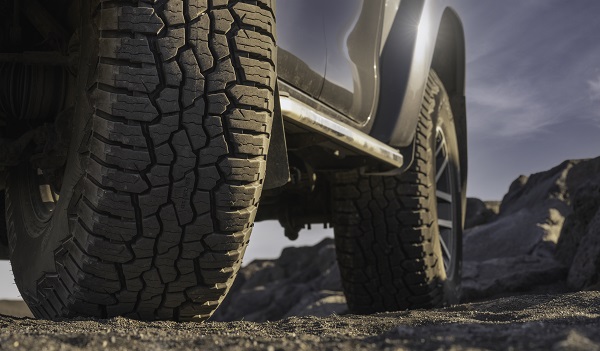 The Outpost AT has an aggressive tread built to thrive on any terrain.
The Outpost AT is built to make work productive and leisure limitless. With a canyon-deep tread pattern stocked with technology that resists rocks and claws through mud and snow, it's ready for hardcore off-road adventure. 
Nokian Tyres Outpost nAT
In the Spring of 2023, we announced the North American version of our popular Nokian Tyres Outpost all-terrain tire. The Nokian Tyres Outpost nAT is a tire made in the USA at our Dayton Factory, and exclusive to North America, that will help drivers extend their adventures. 
The Nokian Tyres Outpost nAT shares a lot of similarities to its predecessor, Outpost AT, but there are some changes that help tailor the tire to North American roads:
     -- Tread blocks have a squarer profile, with fewer supports between the blocks and grooves
     -- Summit Sidewalls are more aggressive
     -- The Outpost nAT has smooth sidewalls and attractive raised letting that make it look even more rugged
The best qualities of the tire stay the same. The tread and sidewalls are protected with durable Aramid Tough Shield, and the tire remains aggressive enough for the trail but comfortable enough for the road.

The Outpost nAT has smooth sidewalls and attractive raised letting that make it look even more rugged.
NOKIAN TYRES Outpost APT
If versatility is your jam and your drive a crossover, small-to-mid-sized SUV or small pickup, the Outpost APT is an ideal option. It's an all-purpose-terrain tire flexible enough to let drivers of SUVs, crossovers and small light trucks thrive in all conditions, from getaways to the daily grind, thanks to Aramid sidewalls and an adaptable tread compound.
Its unique tread pattern glides through tough terrain but still offers comfort on dry roads. The Outpost APT is tailored to provide advanced performance without sacrificing high mileage, with a silica compound that maximizes safety, steeliness and style.

The versatile Outpost APT, built for adventure on the road and off it.
Still want a feel for how these products differ from one another? Here's a helpful tool: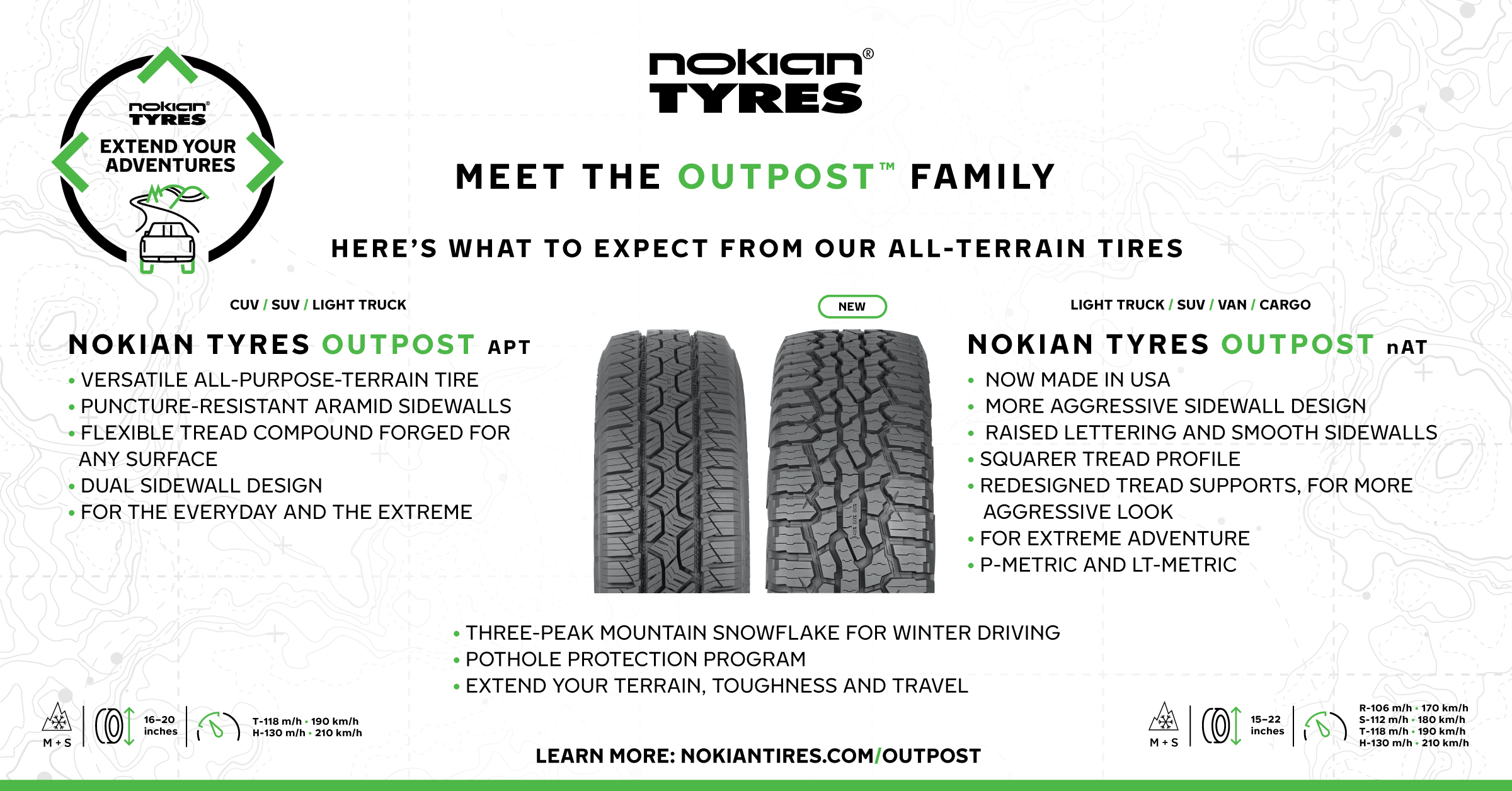 If Justin's review wasn't enough to convince you, we think you'll enjoy this testimonial from drone pilot and adventurer Björn Steinbekk, whose used the Outpost to Extend His Boundaries. And if you're ready to extend yours, click here to learn more about the tires, then visit our Dealer Locator to find a shop in your area.