Simple reliability for varying winter weather
The reliable and durable Nokian Tyres Nordman 7 studded tire offers safe and comfortable driving under varying Northern conditions. The Nokian Tyres Nordman 7 flexibly adapts to changing weather and guarantees excellent grip when braking and cornering on slippery roads.
STABLE HANDLING
EXCELLENT GRIP ON ICE, SNOW, AND WET SURFACES
COMFORTABLE AND QUIET

Officially approved for winter use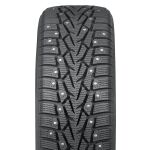 User opinions
Rated 4.3 based on 19 customer reviews
---
First set of studded tires
Excalibr4 • 9 months ago
I just moved to Montana and was warned of the brutal winters here. I decided to buy a "winter car" (old Honda Accord)and had these installed on it. The tires feel fantastic! When stopping on ice they dig in and do the job. I have been driving on snow and ice for 50 years, but never experienced the security and safety of studded tires before.
---
Best tires ever they handle and grip without studs that is like a banchee
Supermario77 • 9 months ago
I got them last year and they work great . Shouldent go with any other brand ever
---
good tire at 1st but !
cinders • 11 months ago
had the tires at first good in snow but a little noisy after 2 year belts broke in all 4 tires about 1/2 worn felt like i had bent rims! had to throw them away !
---
Thank you, Nokian
MelanieLeiann • 22 months ago
I wanted to say, "Thank you" to Nokian for producing such a well-rounded, balanced, and safe winter tire. Just yesterday, I gave a set of 4- Nordman 7's to my Mom and Dad as their Christmas present. They will have them installed tomorrow, 12-7-2020. You should have seen their faces when I rolled one of the tires into the house! Priceless! I told them, "When you drive on Nokians, you will NEVER go back to anything else! They are in a league all their own!" Like I also told my mom, "Drive for the conditions, and when you need it, punch your AWD button and let the tires do the rest of the work. After all, that is what they are designed for!" Again, Nokian. "Thank You" for making my parent's drive a lot safer this year, as it can get pretty dicey at times up near the areas surrounding Mt. Rainier in WA. State.
---
Confidence in Northern Ontario
Tmac22 • 23 months ago
I've used the Nordman 7 studded tires for the last two winters up here in Northern Ontario and have gained confidence with their performance. They hug the corners well and have great traction pulling away from a stopon snow and ice. I would highly recommend these studded tires to anyone.
---
Best I've had so far
Blaker73 • 2 years ago
I have spent a lot of money on some of the top rated winter tires but this time I went with the studded Nokian Nordman 7 and I will never go back. On ice, these things make my van like a tank. On the highway, I find them surprisingly quiet. Frankly I didn't even notice them. Absolutely no regrets in this first season.
---
Great price great performance
Yakutsk14 • 2 years ago
I drive about 30 000km per winter and those tires are really durable. I have them non-Studded but I recommend the studded version which is better on the ice. It works great in deep snow, curves and braking. On the ice I can feel that the materiel is gripping thanks to the quality and components. I am living in Toronto and drive to Quebec City and Bay James often but for my budget it was the best deal. I am originally from the coldest city on earth in Siberia and even out there Nokian is the best seller.
---
Do the job but noisy
Winterguy • 2 years ago
A little pricey but feel safe. Was a proper investment. Do the job, don't worry with these. Nice wear resistant, i've had way worst in the past. They just very noisy. Was instant shock. Happy with them but not sure i'll go nokian for my next set
---
Very Disappointed!
namaste105 • 3 years ago
I paid $455.96 for four new Nokia Nordman 7 tires, without studs on November 13, 2018. I put 11,397 miles on them, over a period of less than six months. And today, the dealer that installed the tired informed me that the tires were down to 3/32" and should be replaced before next winter. One season oit of tires that cost me $459???!!! I won't bjy these tires again.
---
These Tires Rock
CrawldaBeast • 3 years ago
Bought a studded set last year for our GMC Jimmy. My commute was 25 miles one way on mountain roads to work in NW Montana and the first half was always unplowed and not well maintained. The Nordman 7s gave awesome performance the whole winter on snow and ice. The studs on these tires are larger than most and they really work well on ice. This year I put them on our van so I could drive it. The good news is the van is safer than Jimmy. The bad news is I'm looking everywhere to buy another set for Jimmy and I'm not finding them with studs. Would I recommend these to a friend? The answer is "Yes, if you can find them in your size."
Air Claw Technology
Excellent winter grip and driving comfort
The combination of the anchor stud and air damping offers driving comfort and safety on ice, snow, and wet road surfaces. Air Claw Technology refers to a combination of sturdy studs and waterdrop-shaped air dampers on the front edges of the tread blocks. This combination provides efficient grip and good stud durability while at the same time lowering the noise level and reducing road wear.
Anchor stud
Firm handling in corners and during evasions
The anchor stud is wide, multifaceted, and sturdy, boosting the tire's longitudinal grip during acceleration and braking. The stud's wide bottom flange supports it, boosting lateral grip.
Double slush edge
Slushplaning resistance
The wedge-like edges efficiently remove the slush between the road and the tire.
Bear Claw
Relentless braking grip
Bear Claw is an innovation that keeps the stud perpendicular to the driving surface during braking by applying optimal tension to the tread block. The multifaceted, sturdy anchor stud boosts longitudinal grip during acceleration and braking.
Eco Stud System
Sturdy grip, softer driving
The key concept behind the Eco Stud System technology is the stud cushion that dampens the stud's impact with the road. This reduces road wear and results in a more pleasant rolling noise.