All-Season tire for light trucks, SUVs and off-road use
New All-Season tire offers extreme durability for professional driving and off-road enthusiasts. It is a fearless performer at quarries, forests and mining areas. This sturdy new tire is a tireless workhorse with a thoroughbred mining compound that can handle even unexpected impacts during demanding off-road use.
ULTIMATE DURABILITY FOR DEMANDING PROFESSIONAL USE
FIRM AND PRECISE HANDLING
STONE EJECTORS IMPROVE SERVICE LIFE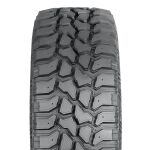 User opinions
Rated 4.7 based on 16 customer reviews
Aramid Sidewall technology
Commercial-grade durability
Aramid Sidewall technology offers a new type of durability and protection for demanding driving conditions. Strong, synthetic Aramid fibers reinforce the tire's sidewall and make it more resistant to impacts and cuts that could otherwise easily break it.
Stone ejectors on the groove bottoms
Better durability
Stone ejectors prevent sharp stones from attaching to the tire's tread surface and penetrating the tire structure. The stone ejectors improve the tire's service life and offer additional protection by preventing tire body damage.
Nokian Tyres Rockproof Hybrid rubber compound
Extreme cut resistance, more working hours
The new Nokian Tyres Rockproof Hybrid mining compound is tailored for challenging off-road use. The tire's extreme cut resistance comes into its own during professional use in mines and quarries as well as in off-road driving.