Low Rolling Resistance Saves Energy and Lowers Emissions
Did you know that the way you treat your tires can have a positive impact on the planet? The key is rolling resistance. According to the U.S. Department of Energy, between four and 11 percent of a car's fuel is used up providing the energy required to propel your tires along the road. It's known as rolling resistance. Premium tires [like ours] that are properly inflated require less energy to operate – less rolling resistance – which makes cars more fuel-efficient.
Lower rolling resistance also helps lower carbon dioxide emissions. Since 2013, Nokian Tyres has reduced the rolling resistance of our products by an average of 8 percent, resulting in a reduction of over 141,000 tons (128 million kg) of CO2.
We make our tires to minimize rolling resistance, but you can play a role in that, too. The key: keeping your tires inflated at their proper level. Underinflated tires generate more friction and are less fuel-efficient. So, if you're serious about going green, make sure you've filled your tires to the recommended inflation pressure. You can usually find that on a sticker inside your driver's-side door or in your car's owner manual.
The numbers add up. If all passenger cars in Finland, Sweden and Norway used Nokian Tyres Hakkapeliitta R3 tires over the product's life cycle, the fuel savings would be 297 million liters (78.5 million gallons), and carbon dioxide emissions would decrease by some 710,000 tons (644 million kg)– a benefit to society of 28.4 million Euros, according to KPMG.
So if you care about the environment, make low rolling resistance a high priority the next time you're choosing tires. And once the tires are on your car, keep them inflated to recommended levels.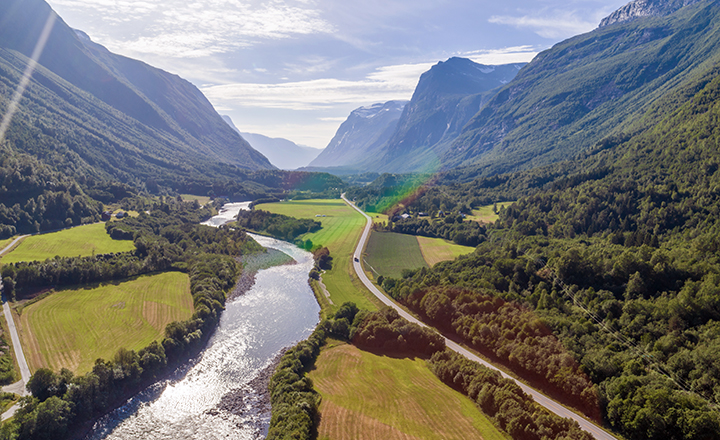 Greener Tires Through Better Materials and Processes
You can impact how full your tires are, but there's plenty that happens before those tires are on your car. Eighty-five percent of a tire's carbon footprint is generated during its use, but the other 15 percent comes from the way tires are sourced and manufactured. If going green is important to you, be sure to do some research about those processes before you buy your next set of tires.
We'll give you a head start by telling you how we sustainably craft our products:
Nokian Tyres was the first tire company to eliminate the use of harmful oils in our tire compounds, and we did so without compromising the grip and safety of our tires. We only use purified oils in our tire production – no toxic or carcinogenic chemicals.
We're achieving new levels of sustainability in our production process. Our 2018 goal was to reduce CO2 emissions from our production process by 20 percent. We nearly doubled that goal, decreasing CO2 emissions by 38 percent.
In 2018, we committed ourselves to the strict Science Based Targets program to lower greenhouse gas emissions in line with climate science.
We have managed to reduce our yearly energy consumption by 2.5 percent per production ton. Three months after installing a scrubber at our factory in Nokia, Finland, we had already reduced the need for fuel by 20 GWh, which equals approximately 185 truckloads of fuel.
Our new test track in Santa Cruz de la Zarza, Spain is fueled by an on-site solar power plant. It has the capacity to provide surplus energy to the local power company. Our distribution facility in Vermont is partially powered by solar energy.
We're aggressively auditing our raw materials suppliers to ensure they're complying with environmental and human-rights standards.
Nokian Tyres is always looking for new ways to build the greenest tires possible. We sponsor a project by a local university as well as farmers in Santa Cruz de la Zarza, Spain that tests growing guayule, a possible replacement for natural rubber in tire manufacturing.
Many companies recognize that environmental responsibility is vital. We've been on the leading edge of those efforts for decades, and we're considered a leader in that field – not just in the tire industry, but across all sectors. We received silver recognition in the 2018 RobecoSAM sustainability assessment, ranking us as one of the most eco-friendly companies in the world.
Hopefully this gives you a sound education about how tires impact the planet. Best of luck picking tires that are right for you and good for the environment! We have plenty of premium tire options for you.