You should take a moment to think about the key question related to choosing winter tires – studded or non-studded? And while considering your options, bear in mind the following questions: How much do you drive in the winter? What sorts of roads do you use? What are you like as a driver, and do you have a lot of winter driving experience? Can you sometimes use public transport, or do you always need your own car? Is your car equipped with special safety accessories (stability and traction control, ABS brakes)?
We have a few pointers for you to simplify the choice between studded tires and non-studded tires. And whichever you pick, remember that winter driving takes skill. A predictable and calm driving style, the correct speed, and relaxed schedules improve the safety and comfort of winter driving. 
Snowy or Icy Roads
If you drive more on icy roads than on snowy ones in winter, studded tires are the choice for you. Studded tires are especially suitable if you live near the coast, where roads tend to be icy during the winter. Non-studded winter tires are a good choice for snowy roads.
Wet Ice and Packed Snow
If you have non-studded winter tires, you need to be particularly careful at intersections, crossroads, etc., where there may be wet ice or hard-packed snow. Studded tires are superior to non-studded winter tires on wet ice and hard-packed snow.
Quiet Tires
If you appreciate tires that are quiet on bare roads, non-studded winter tires are the right choice for you.
Unpredictable Autumn Conditions
Non-studded winter tires can be mounted earlier in the autumn than studded tires. Once you have mounted non-studded winter tires, you don't need to worry about rapidly changing road conditions in autumn. Non-studded winter tires are also a good choice in spring, when temperature changes can be surprisingly rapid.
Non-studded winter tires all-year round?
Coarse spring roads can be particularly wearing on all tires and non-studded winter tires are primarily designed and intended for winter use. Non-studded winter tires that have been unevenly worn by coarse spring roads are no match for good summer tires. Therefore we do not recommend the use of non-studded winter tires as all season tires. All season tires are the safest and most economic choice for summer driving.
For more information on what type of tire is safest for your driving needs - considering the climate conditions in the area where you drive - check out our Tire Buying Guide.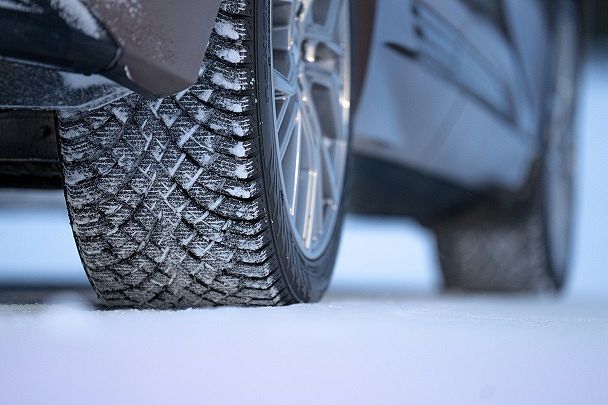 The new Nokian Tyres Hakkapeliitta R5 non-studded winter tire range will be available Fall 2022.