Choose Your Own Adventure: Which Outpost Tire Should You Drive?
Ready to start planning your spring adventures? We're here to help.
You see, we didn't make things very easy on you when we unveiled the new Nokian Tyres Outpost product family. These all-terrain tires offer epic toughness and versatility, but they also present you with a tough decision: Which Outpost tires should you choose?
Should you equip your vehicle with the aggressive all-terrain Nokian Tyres Outpost nAT, whose tread and sidewalls are protected by the same fiber used in protective vests?

The all-terrain Outpost nAT.
Or should you buy the jack-of-all-trades Outpost APT, an all-purpose tire infused with toughness but also built with comfort in mind?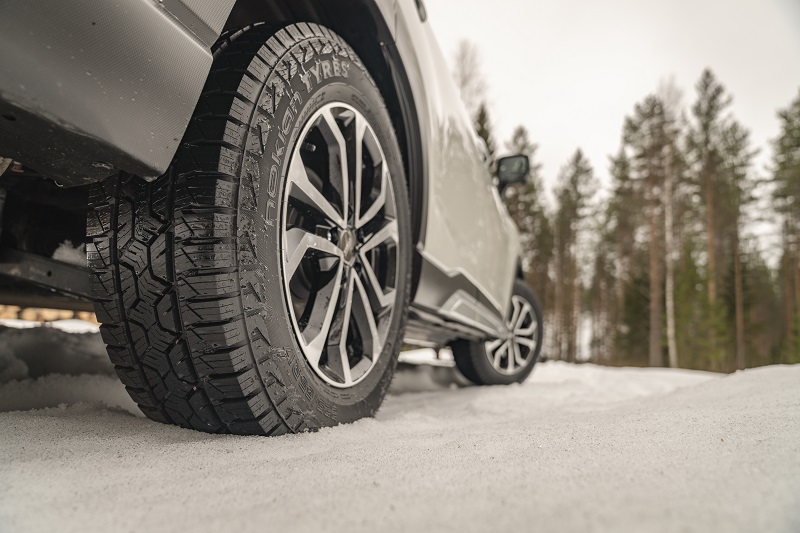 It's time for you to choose your own adventure -- and the right tires to take you there!
Extreme Off-Roading
Do you enjoy remote journeys into the unknown? Good news: Both tires can get you there! They each offer tread patterns that eliminate rocks, dig through mud and carve confidently through snow.
But if you're looking to leave the pavement behind for an extreme adventure, the Outpost nAT is the tire for you. Forged with features to help drivers tackle the toughest surfaces, including puncture-resistant Aramid Tough Shield™ technology, the Outpost nAT is designed to make work productive and leisure limitless.
Its aggressive tread pattern includes Gravel Guards that channel away rocks, and its compound is rugged enough to withstand the rigors of off-roading.
Ski Trips
Do you like ascending to new heights, then plunging back down? Avid skiers and snowboarders should consider the versatile Outpost APT. While both tires come with the three-peak mountain snowflake emblem that certifies they're forged for all four seasons, the APT provides ultimate flexibility to carve through snow with a focus on comfort. It truly thrives in all conditions, from weekend getaways to the daily grind.
Hiking and Camping
Ready to hit the trail? This one is a trick question, because both members of the Outpost Family are great fits to get you there with no issues. While the Outpost nAT is a more aggressive tire built for regular weekend adventurers, the Outpost APT is sturdy enough to support more occasional weekend warriors who place a premium on comfort during their everyday routines. 
This one could also come down to tire size: The Outpost nAT is generally better suited for larger SUVs and pickups, while the Outpost APT is built for mid-sized SUVs and smaller trucks. 
What adventures do you plan to take -- and which tires do you plan to choose? We hope this has helped you make the call. If you're still debating, check out this helpful graphic that summarizes each tire's strengths, sizes and specs. To learn more, we encourage you to visit NokianTires.com/Outpost!