Simple reliability for varying winter weather
The reliable and durable Nokian Tyres Nordman 7 studded tire offers safe and comfortable driving under varying Northern conditions. The Nokian Tyres Nordman 7 flexibly adapts to changing weather and guarantees excellent grip when braking and cornering on slippery roads. Available factory studded or non-studded.
STABLE HANDLING
EXCELLENT GRIP ON ICE, SNOW, AND WET SURFACES
COMFORTABLE AND QUIET

Officially approved for winter use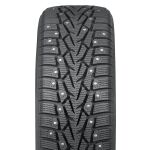 User opinions
Rated 4.4 based on 20 customer reviews
Air Claw Technology
Excellent winter grip and driving comfort
The combination of the anchor stud and air damping offers driving comfort and safety on ice, snow, and wet road surfaces. Air Claw Technology refers to a combination of sturdy studs and waterdrop-shaped air dampers on the front edges of the tread blocks. This combination provides efficient grip and good stud durability while at the same time lowering the noise level and reducing road wear.
Anchor stud
Firm handling in corners and during evasions
The anchor stud is wide, multifaceted, and sturdy, boosting the tire's longitudinal grip during acceleration and braking. The stud's wide bottom flange supports it, boosting lateral grip.
Double slush edge
Slushplaning resistance
The wedge-like edges efficiently remove the slush between the road and the tire.
Bear Claw
Relentless braking grip
Bear Claw is an innovation that keeps the stud perpendicular to the driving surface during braking by applying optimal tension to the tread block. The multifaceted, sturdy anchor stud boosts longitudinal grip during acceleration and braking.
Eco Stud System
Sturdy grip, softer driving
The key concept behind the Eco Stud System technology is the stud cushion that dampens the stud's impact with the road. This reduces road wear and results in a more pleasant rolling noise.