Journey to a greener world: how we raise the bar for sustainable tire manufacturing
Now more than ever, people and corporations are looking for ways to minimize emissions and their footprint. As humanity turns to more environmentally friendly practices, Nokian Tyres is ready to welcome you to the movement. We're no stranger to sustainability. For years, we've been committed to building a better world—and that means cleaning up a bit. We believe eco-friendly driving starts before the rubber meets the road.
Safety and sustainability have long been at the core of Nokian Tyres. Our values are what make us who we are, driving us to push ourselves and go further than ever before. For us, doing more isn't just a promise. It's a responsibility. Nokian Tyres is proud to set the precedent for an eco-friendlier industry, taking action against climate change.
We've made it our mission to eliminate waste and reduce emissions from every aspect of production, starting at the source. We were the first to eliminate harmful, high-aromatic oils from our factories, turning toward more natural ingredients such as rapeseed oil and tall oil. This change isn't only safer for the planet, but our employees, too.
Nokian Tyres is constantly searching for alternative methods and materials, bringing our innovative spirit into the mix to give production a makeover. By 2030, 50 percent of the raw materials used in our products will be recycled or renewable. Our Green Step concept tire is just one example, made of 93 percent sustainable materials.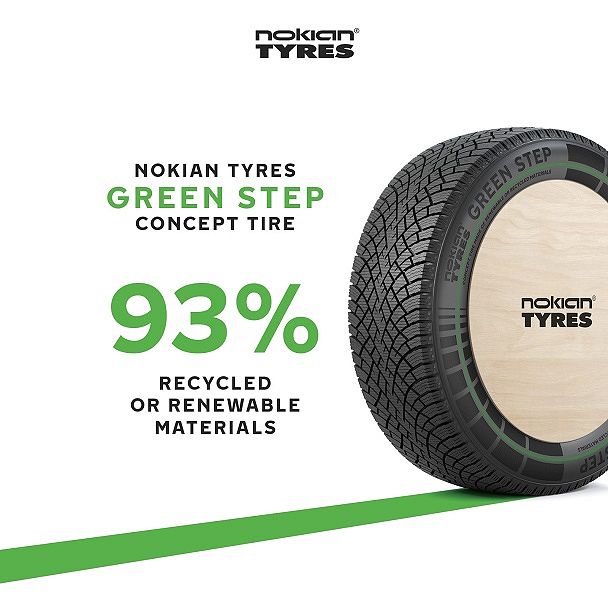 We're proud to drive the movement in our factories, too. Our North American  in Dayton, Tennessee has made great strides, reducing emissions and waste wherever possible. As the only tire factory in the world to achieve LEED v4 Silver certification, the zero-waste-to-landfill facility is partially powered by onsite solar panels. And our new factory in Oradea, Romania is taking us one step further in reducing our footprint. Being the world's first zero CO2 emissions tire factory, it will set a new standard of sustainability in the industry. 
But a cleaner tire doesn't just benefit the environment. The driver wins too. Whether hybrid, electric, or just plain gas, eco-friendly tires can take you further. More than 90 percent of Nokian Tyres products fall in the lowest categories of rolling resistance, the amount of energy required to move a tire down the road. Low rolling resistance means more bang for your buck, keeping the green where it belongs: the planet, and your wallet. Your dollar and journey can last a little longer thanks to greater fuel efficiency and less emissions. With the security of safety and sustainability, you can feel good about extending your journey with Nokian Tyres.
We know the road to a greener world is a long one, but we're proud to lead the way. Nokian Tyres doesn't just set the bar for sustainability, we raise it. We know we can't fix climate change by ourselves, but we're devoted to doing our part. Are you?
We invite you to learn more about our sustainability efforts and join us in protecting the planet. Head to our Dealer Locator to find a set of fuel-efficient, eco-friendly Nokian Tyres products near you!
Did you find this blog interesting? Share it with your friends and family on Facebook: